Having sensitive skin requires a lot more effort and a consistent skincare routine than usual skin types.
Sensitive skin is generally genetic and can react with many different variables, from an imbalance of hormones and improper diet to changes in the weather condition and specific chemicals or ingredients.
It becomes important to maintain a consistent skincare routine at home to keep your skin sensitive, calm, and clear.
We have collected some sensitive skincare routine at home to get relief from your symptoms as well as to keep your smooth clear and brighter.
Here are some affordable skincare tips to battle sensitive skin.
Best Tips to Maintain a Skincare Routine for Sensitive Skin
In order to maintain your skin health, you need to know some essential tips that you can follow.
So, mentioned below are some of the tips that you must add to your skincare regime.
#1. Avoid Foam
When we use soap or face or body wash, we usually want foam because we think that it makes our skin clear.
But the fact is foam is not required at all for proper cleansing of the face or body. And, it's obvious when the foam is present, it means that strong surfactants like sulfates are present in the soap.
Since these surfactants give a great foaming experience and help in cleansing, but they can also cause skin sensitivity and skin dryness if the pH of the soap or face wash is not modified.
So, it is advisable to avoid foaming cleansers instead of this look for non-foaming cleansers to get a gentle wash, without any risks.
#2. Avoid Parabens
Before avoiding parabens, firstly know what are parabens!
Parabens are preservative agents that make ensure that any type of bacteria or fungus did not grow in your skincare products.
Although they are highly effective, they also have a risk of allergy.
In already sensitive skin, skin allergy risk is higher than regular skin.
So, avoiding common allergies like parabens becomes important to avoid. So, look for skincare that is paraben-free to reduce the risk of skin rashes.
#3. Prevent Artificial Fragrance
The fragrance is an important aspect of all skincare products. People give first priority to the fragrance of the products, which makes them buy the product.
Thus, avoiding products with strong fragrances becomes hard.
The fragrance contains thousands of unknown chemicals that definitely contain a small risk of an allergic reaction on the skin.
People with sensitive skin tones may have a higher risk of skin allergies like rashes or redness.
So, try to look for products that contain no artificial fragrance or are certified natural.
Skincare Routine for Acne-Prone Sensitive Skin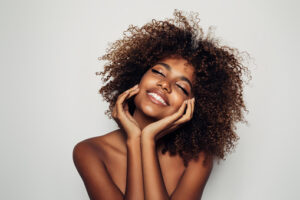 Everyone's skin is unique in its own way. But those who have sensitive and acne-prone skin can reduce the skin issues with the help of following a proper skincare routine.
Some tips to avoid acne or pimples are mentioned below:
Cleanse the impurities on the face with the help of a cleanser
Use toner in the morning and nighttime to close the open pores.
Use daily moisturizer to hydrate and protect your skin.
Protect your skin with SPF.
Follow a proper healthy diet to make your skin healthy and glowing.
Night Time Skincare Routine for Sensitive Skin
If you have sensitive skin and want to make your skin normal. Use some night skincare that helps to make your skin back to normal.
Tips to follow for sensitive skin are mentioned below:
Use a gentle cleanser and serum at night once or twice a week to make your skin clear and soft.
Apply the exfoliating mask gently on your skin as it contains lactic acidosis and pineapple enzymes that are great for sensitive skin.
The Final Verdict
Whatever your skin tone is, it is very important to take proper care of your skin.
A healthy diet and exercises help you to keep your skin healthy, soft, and smooth.
However, sometimes, due to weather conditions or hormonal imbalances, you may face sensitive skin.
You can simply make your skin normal by following an affordable skincare routine for sensitive skin. It is necessary to take care of your skin daily.
While choosing products for skin, take care of the ingredients and fragrance present in the product that is safe for skin type.
Here in this blog, we dealt with the best skincare tips and remedies for sensitive skin. If you have further queries, feel free to comment down below.