Losing weight isn't an easy task…Getting a lean body is tougher than you think right??
So is there any way that helps you around in attaining the physique you ask for?
You may hear from some fitness freaks that eating less or replacing meals can be a good move.
But… Do meal replacement shakes for weight loss work???
So here we are going to reveal the truth regarding the theory of meal replacement for weight loss.
Meal replacement powder or shakes are a combination of elements that offer complete nutrition for meals.
Replacing meals with a good workout regime can help you out in maintaining the weight as well as losing the same.
Don't get confused with the protein shakes, there is a way difference in both. Hence to more about meal replacement shake in detail read out the blog.
Let's start this hot topic with a brief introduction to meal replacement shakes.
What are Meal Replacement Shakes?
Since meal replacement powders or shakes are intended to kickstart your body fat to burn out. It is mainly a calorie-controlled, prepackaged product.  This usually comes in the form of shakes or powders to replace your high-calorie meal.
These products usually contain more than 20 minerals and vitamins in good source levels.  Most people consume meal replacement products as conventional or functional foods.
It helps you to cut the unhealthy intake of foods and also helps you get the physique you are looking for.
You may wonder how to use meal replacement shakes for weight loss? So here we are going to elaborate on the science behind meal replacement products.
Let's jump to the next section to find out more about Meal Replacement shakes for Weight Loss.
What is The Science Behind Meal Replacement Supplements?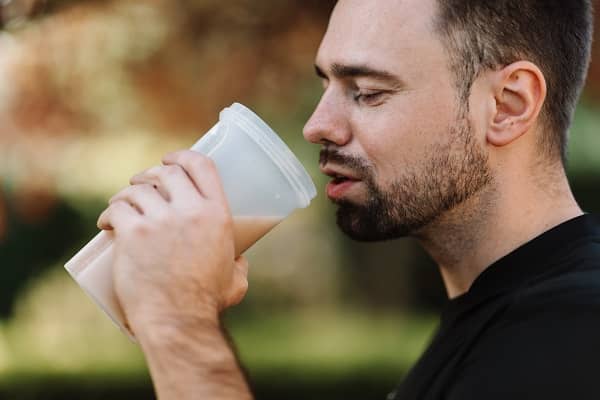 In our journey to go over the searches, we find out people are searching for many different questions. These questions include Is meal replacement shakes good for weight loss, Can I replace all my meals with meal replacement shakes, and many more.
Henceforth, to clear all your doubts, we configure the science behind the Meal Replacement shakes for Weight Loss. The most basic aspect we need to cover for the science behind the meal replacement include:
#1: Protein and Glycemic Index
Both of these elements are highly effective in controlling hunger. Like protein is one such satiating macronutrient, having it in the right amount will help effectively.
On the other hand, meal replacement powder contains a low glycemic index that curbs appetite. Interestingly, having both protein and glycemic index in one source can help proficiently.
#2: Behavioral Changes
According to research, it is proven that people who are taking meal replacement shakes do experience some behavioral changes. A continued intake of these supplements can help you in many ways. These include increasing compliance, the accuracy of calorie estimation, etc.
Along with this, a habit of a healthy diet fills you up with energy and self-consciousness. This eventually helps you to be more aware of your target behaviors and get satisfactory outcomes.
#3: Nutrient Density
Most meal replacement drinks are rich in nutrients. This controls HMPR from the people and feels full all day. It helps you to get lower calories than your daily meals.
Moving on to the next section of the blog to find out the benefits and side effects of meal replacement shakes.
What are the benefits and Side effects of meal replacement shakes?
One of the indigenous benefits of consuming meal replacement blends is weight loss. Undoubtedly, it is an effective solution that helps you to get a lean and slimmer physique.
Although there are many such dietary supplements on the market that claims to be the best meal replacement shakes for weight loss.
But they might show some adverse side effects like stomachache, muscle loss, and decreased metabolism.
Hence, before jumping into any of the blends that proclaim to be the best weight loss shakes for women. There are a few things you need to consider.
Let's find out what are the key points you need to highlight before opting for any meal replacement shakes.
Things to Consider
There are a few things you need to know about before going for any meal replacement blends. Some of the manufacturers claim that the product they are offering is highly effective in weight loss.
But they might contain some hazardous elements that can risk your health too. Henceforth, you need to check out the ingredients that they are using for making the blend.
Furthermore, it is not offering rapid weight loss, it can also risk your health. Along with this, the product should be organic, and nutritious and should promote healthy weight loss.
In our in-depth research, we find out one such product that claims the same benefits. Let's find out more about the product in the next section.
Which are the Best Meal Replacement Shakes for Weight Loss 2022
You also may get encountered the question Which is the best meal replacement shakes for weight loss 2022. So here is your answer, according to PhenQ Meal shake reviews many people get benefitted from PhenQ Meal Shake.
It is a super-potent blend of 13 key vitamins and minerals and 16 grams of whey protein, This helps you to keep full all along the day and also lets you do daily functioning more conveniently.
Along with this, PhenQ Meal Shake is highly effective in improving protein synthesis for enhancing your strength, muscle building, and fast recovery.
Apart from the micronutrient blend- it also consists of elements that boost your metabolism up to the mark. Furthermore, it curbs your hunger and enables you to be full all day long.
Moving to the last section of the blog, let's find out about the conclusion of the entire blog.
Final Words
In this blog on Meal Replacement shakes for Weight Loss, we tried to help you out with meal replacement shakes.
If you are looking for a product that gives you a healthy weight loss journey, you can opt for PhenQ Meal Shake.
The product makers claim that they offer not only nutritious but also delicious meal replacement powders for your meal.
Furthermore, it supports a fat-burning engine to shed extra fat accumulated in your body.
Also, the PhenQ Meal Shake before and after Results are positive and helped many individuals in getting the physique they want.
Although, the product doesn't have any elements that can harm you still, do consult your physician before starting the product.