Do you know: Adaptogenic herbs are the best non-toxic way to reduce stress?
Stress is a common problem that most people on this globe suffer from in their day-to-day life. Most of the time it remains unnoticed as it happens for a short period. But if the condition stays for long, it can potentially increase the risk of other associated diseases. 
Thankfully, there are ways to reduce cortisol levels and stress. Science shows that adaptogenic herbs are one of the best ways to treat the root cause of stress. It works to enhance adrenal glands and their functions. 
But, how do adaptogens lower cortisol? Read on to know more about adaptogenic herbs and their benefits in reducing cortisol.  
What Is Adaptogenic?
Adaptogens are derived from plants and certain mushrooms that have stress-reducing benefits. 
These special herbs work to counteract the effects of cortisol in the body. They basically have stimulant properties that help fight the negative effects of stress. 
Adaptogens work at a very base level to regulate the hypothalamus, pituitary, and adrenal glands' functions. It actually hacks the stress response functions and helps return your body to a balanced state called "homeostasis". 
In addition, these adaptogenic herbs also provide you with antioxidants, anti-inflammatory, and anti-bacterial properties. 
People who experience the fight or flight response due to increased cortisol levels can get benefited from adaptogenic herbs. 
Top 4 Adaptogenic Herbs: List and Benefits
Adaptogenic herbs are already in use in Chinese and ayurvedic medicines.
These herbs can respond to stress by normalizing your metabolic ability and supporting the stress-producing gland i.e. adrenal gland. These herbs are also used in supplements to deliver maximum
Here is the list of adaptogenic herbs and their benefits in alleviating cortisol levels.  
#1.

Holy Basil
Holy basil is used since ancient times to cure many health issues. It is one of the important herbs of ayurvedic medicine. The holy basil plant act as an adaptogen.
It works to lower cortisol levels along with regulating blood sugar levels. Some research has shown that holy basil helps fight fatigue and all type of stress.     
Moreover, holy basil also has some anti-oxidant and anti-inflammatory properties. It helps reduce inflammation and free radicals inside your body.
Simply put, holy basil promotes wellness by reducing cortisol and inflammation throughout the body. 
#2.

Rhodiola
Rhodiola scientifically known as "Rhodiola Rosea" is well known for its adaptogenic properties. This adaptogenic herb is traditionally used for enhancing physical and mental performances. 
Some recent studies show Rhodiola helps prevent stress and tension. It basically increases your body's resistance to stress and fatigue.
It also plays a key role to eliminate negative effects associated with inadequate oxygen supply like wheezing or shortness of breath. 
In addition, regular use of Rhodiola benefits in boosting immune function and improving sexual performance. It also works to reduce inflammation after making its way into the bloodstream.     
#3.

Lemon Balm
Lemon balm is a member of the mint family which is also known as "Melissa officinalis". It is basically found in the Mediterranean region. It has been used for centuries as natural medicine.
But, some recent studies have shown that lemon balm can potentially treat anxiety disorders and promotes calmness.
The lemon balm herbs contain anti-oxidant substances such as terpenes and flavonoids. These substances work to reduce anxiety by inhibiting certain brain chemicals. 
Lemon balm also works to improve mood and sleep along with reducing stress hormone levels. One can simply drink lemon balm in tea to avail of its benefits.  
#4.

Ashwagandha
Ashwagandha is also known as "Indian ginseng". It has been used since ancient times as an adaptogen. Ashwagandha is used to improve immune functions and reduce pain along with anxiety.
It actually helps control the mediators that cause stress. Along with this, ashwagandha also plays a key role in reducing the activity of the hypothalamic-pituitary-adrenal axis. It is responsible for regulating the stress response. 
Furthermore, some studies show that ashwagandha can potentially help reduce depression. It also improves cognitive impairment in people with bipolar disorder. In fact, ashwagandha has some proven effects in increasing insulin sensitivity and balancing sex hormones.
These are some of the adaptogenic herbs for cortisol. You can consume these splendid herbs to alleviate stress and anxiety. Consuming these herbs benefits you with many other health problems as well.
However, finding all these herbs or extracts is not easy as they are found in different parts of the globe. Also, the quantity in which to be used also varies according to age and disease. So, one can also consider using adaptogen supplements to avail of the benefits of these herbs. 
But, how can one find supplements containing these natural ingredients? To help you with that, we did some research and successfully found one such supplement containing all these natural herbs. 
PrimeGENIX Cortisync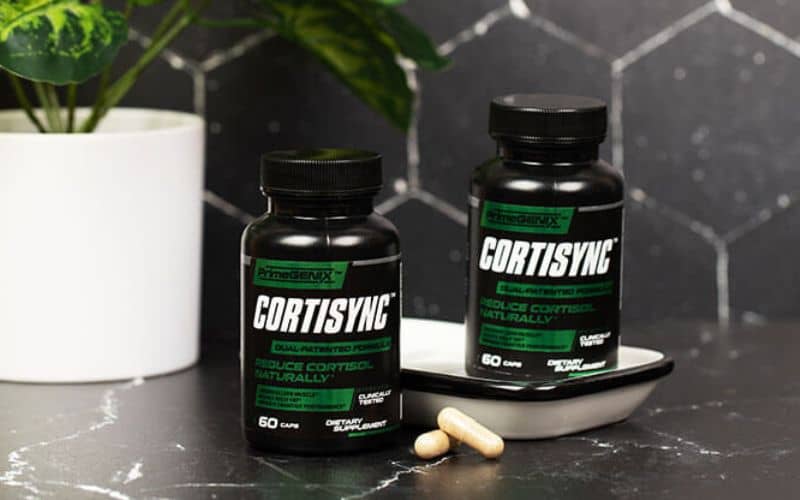 CortiSync is a natural adaptogenic supplement manufactured and marketed by the company PrimeGENIX. It helps regulate cortisol levels to alleviate stress. It also works to enhance physical performance and lean muscle mass. 
The PrimeGENIX Cortisync formula not only reduces cortisol levels but also works to address the root cause. And it requires no lifestyle or dietary change.
Simply put, you can gain real PrimeGenix CortiSync Results and all the benefits without sacrificing your lifestyle. In fact, it is one of the best ways to reduce stress naturally.
Moreover, PrimeGENIC CortiSyn ingredients contain all the adaptogenic herbs mentioned above. Along with these, it also contains L-theanine, Lichi, and Magnolia.
These ingredients also have some proven effects on reducing stress and improving mood. The manufacturers also provide you with a risk-free 67-day money-back guarantee if you buy PrimeGENIX CortiSync from the official website.
So, if you're suffering from stress, PrimeGENIX Cortisync can be your best shot. 
However, be sure to do your research regarding the ingredients if you have food allergies. Also, in case you have underlying issues, discuss them with your doctor before adding any supplement to your diet. 
Increased cortisol has an overall negative effect on the body. While natural remedies might take time, one can try cortisol-reducing supplements to get safer and quicker benefits. 
Conclusion
Stress is a common problem people suffer in their day-to-day life. It becomes necessary to treat stress for good. That's because stress can potentially cause many serious health problems to occur. It not only affects your mood but also increases the risk of heart disease, diabetes, and, obesity.
However, there are some ways to reduce stress. Adaptogens are one such proven way to reduce stress naturally. As mentioned above Adaptogenic herbs help reduce cortisol hormone levels. 
So, if you're suffering from stress, treat it with natural adaptogenic herbs or with PrimeGENIX Cortisync before it triggers other diseases. 
This is all about adaptogenic herbs for cortisol. Hope you get the idea about reducing stress naturally.